Are you ready to indulge in a mouthwatering celebration of all things pierogi? We're excited to invite you to the National Pierogi Day Buffet Extravaganza at the American Polish Cultural Center on Sunday, October 8, 2023! Get ready for a culinary journey that will tantalize your taste buds and leave you craving for more.
Event Details:
Date: Sunday, October 8, 2023
Time: 11am – 8pm
Location: American Polish Cultural Center
Address: Address: 2975 E. Maple Rd. Troy, MI 48083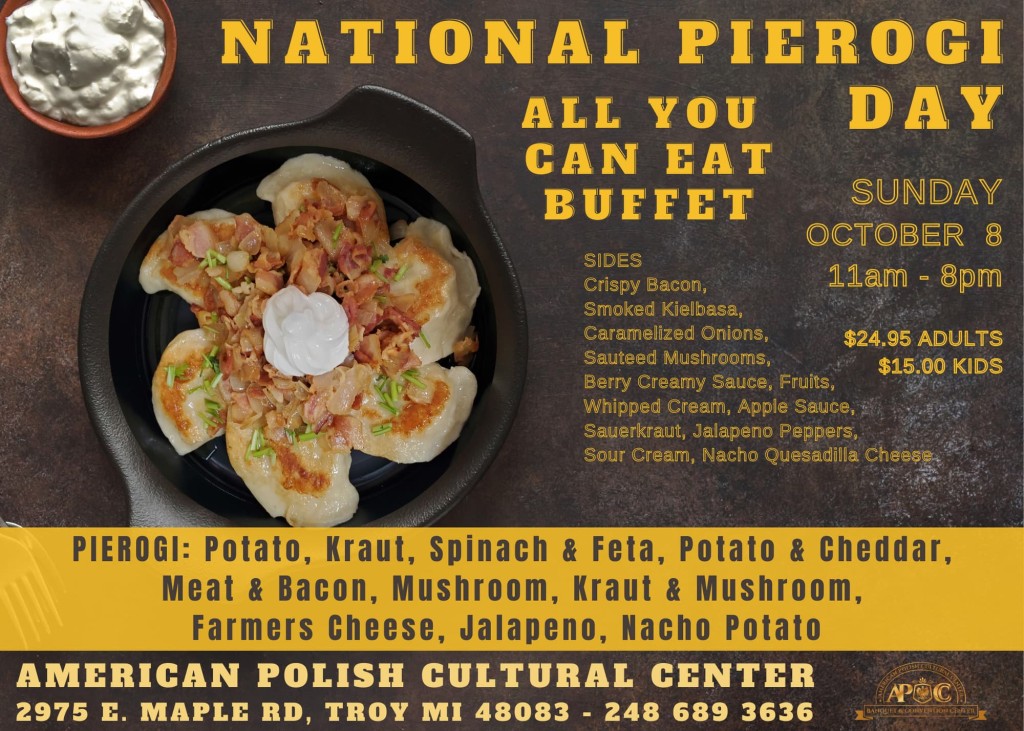 Our All You Can Eat Buffet features an impressive selection of pierogi varieties, each prepared with love and tradition. Here's a sneak peek at what you can savor:
Pierogi Selection:
Potato Pierogi
Kraut Pierogi
Spinach & Feta Pierogi
Potato & Cheddar Pierogi
Meat & Bacon Pierogi
Mushroom Pierogi
Kraut & Mushroom Pierogi
Farmers Cheese Pierogi
Jalapeno Pierogi
Nacho Potato Pierogi
But that's not all! To complement your pierogi feast, we've prepared an array of delectable sides and toppings to satisfy every palate:
Sides & Toppings:
Crispy Bacon
Smoked Kielbasa
Caramelized Onions
Sautéed Mushrooms
Berry Creamy Sauce
Fresh Fruits
Whipped Cream
Apple Sauce
Sauerkraut
Jalapeno Peppers
Sour Cream
Nacho Quesadilla Cheese
Whether you're a pierogi connoisseur or a first-time taster, this event promises to be an unforgettable experience for all. Gather your friends and family for a delightful day filled with food, culture, and great company.
Don't miss out on this opportunity to celebrate National Pierogi Day in style! We look forward to celebrating National Pierogi Day with you on October 8th!