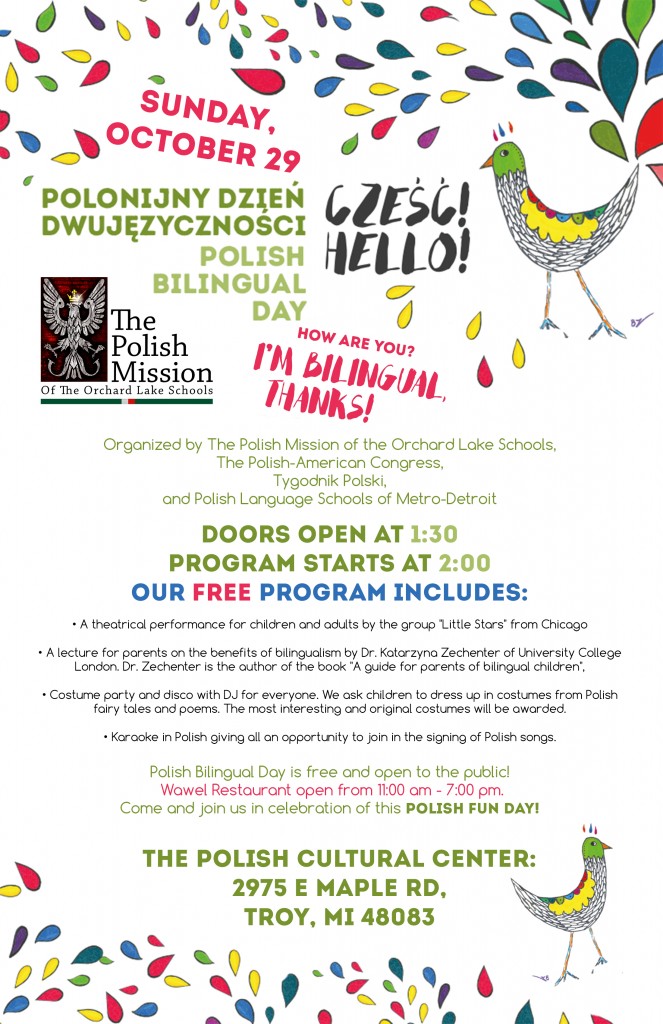 POLISH BILINGUAL DAY: Sunday, October 29, 2017
On October 29, 2017 at 2:00 at the American-Polish Cultural Center in Troy (2975 E Maple Rd, Troy, MI 48083) there will be a Polish Bilingual Day event. Doors will be open at 1:30 pm, so that we can start our program at 2:00. The event is addressed to all children of Polish descent and their families. The program will include:
A theatrical performance for children and adults by the group "Little Stars" from Chicago,
A lecture for parents on the benefits of bilingualism by Dr. Katarzyna Zechenter of University College London. Dr. Zechenter is the author of the book "A guide for parents of bilingual children",
Presentation of Marie Curia-Sklodowska with chemical participant workshops for children aged 6-12,
Costume party and disco with DJ for everyone. We ask children to dress up in costumes from Polish fairy tales and poems. The most interesting and original costumes will be awarded.
Karaoke in Polish giving all an opportunity to join in the signing of Polish songs.
Polish Bilingual Day is free and open to the public. You will be able to buy a Polish meal at the Wawel Restaurant. The restaurant will be open from 11:00 am – 7:00 pm.
Come and join us in celebration of this Polish fun day.
DZIEŃ DWUJĘZYCZNOŚCI; Niedziela, 29 październik 2017 r.
W dniu 29 października, 2017r. o godz. 14:00 w Amerykańsko-Polskim Centrum Kulturalnym w Troy (adres: 2975 E Maple Rd, Troy, MI 48083) odbędą się obchody Polskiego Dnia Dwujęzyczności. Wstęp już od godz. 13:30, abyśmy mogli oficjanie rozpocząć zabawę o godz. 14:00. Wydarzenie kierowane jest do wszystkich dzieci pochodzenia polskiego i ich rodzin. W programie przewidziane jest:
Przedstawienie teatralne dla dzieci i dorosłych grupy teatralnej "Little Stars" z Chicago
Wykład dla rodziców na temat korzyści z dwujęzyczności wygłoszony przez dr. Katarzynę Zechenter z University College London. Dr. Zechenter jest autorką książki "Po polsku na wyspach. A Guide for Parents of Bilingual Children" – praktycznej publikacji pokazującej zalety dwujęzyczności i dającej rodzicom konkretne wskazówki, jak nie zaniedbać u dzieci tego wyjątkowego daru, jakim jest możliwość rozwijania umysłu w dwóch językach.
Prezentacja Marii Curii-Skłodowskiej wraz z warsztatami chemicznymi dla dzieci w wieku 6-12
Zabawa kostiumowa i dyskoteka z DJ dla wszystkich. Prosimy dzieci o przebranie się w kostium postaci z polskich bajek, wierszy lub baśni. Ogłaszamy konkurs na jak najbardziej interesujący i oryginalny kostium.
Karaoke po polsku – śpiewajmy polskie piosenki.
Wejście na Polski Dzień Dwujęzyczności jest bezpłatne. Będzie można zakupić polski posiłek w restauracji Wawel. Restauracja otwarta będzie w godz. 11:00 – 19:00.
Zapraszamy wszystkie dzieci i ich rodziców na polski dzień pełen dobrej zabawy.