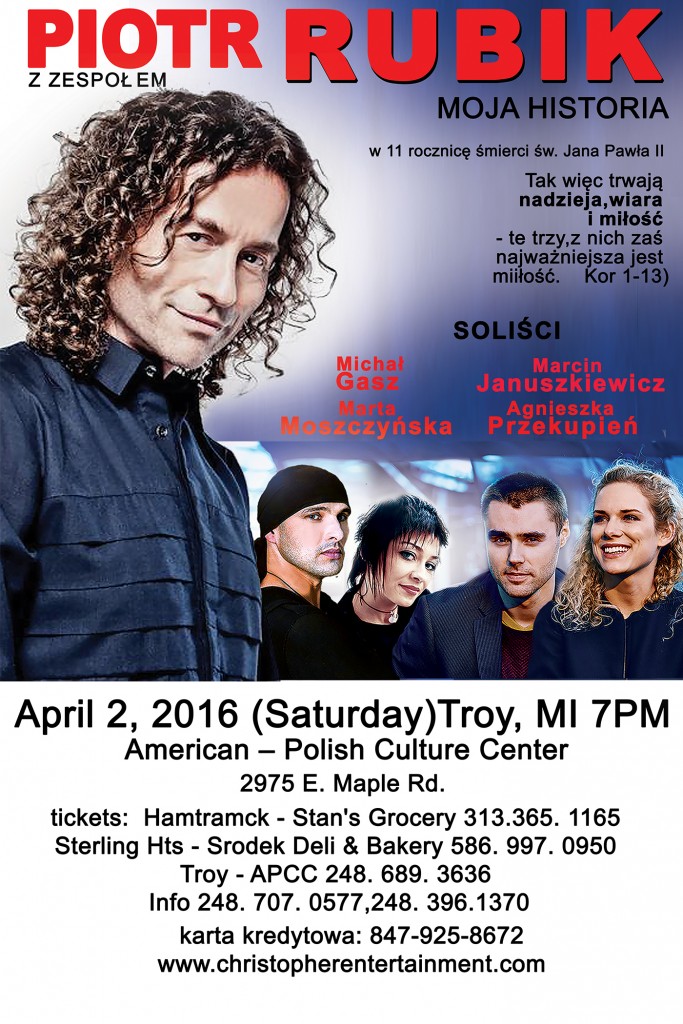 PIOTR RUBIK CONCERT: Saturday, April 2, 2016, 7:00 pm
Piotr Rubik, pianista, wiolonczelista, kompozytor, aranżer, dyrygent, producent muzyczny, można powiedzieć całkiem śmiało i krótko – człowiek orkiestra.Talent odziedziczył po dziadku a szlifowal go  poprzez kilkunastoletni proces edukacji muzycznej na wszystkich jej poziomach, podstawowym, licealnym i wyższym w Akademii Muzycznej w Warszawie im. Fryderyka Chopina. Koncertował w Europie i świecie z Orkiestrą Światową Jeunesses Musicales. Uczestniczył w kursach mistrzowskich pod kierunkiem Ennio Morricone. Horyzonty muzyczne poszerzał samodzielnie, gdyż muzyce rozrywkowej i jazzowej nie poświęcano w szkołach muzycznych czasu. Stąd w jego muzycznym życiorysie figurują m.in.  zespół "Funk Septet", a w czasie studiów kontakt z czołówką gwiazd polskiej piosenki . Jako kompozytor zadebiutowal w 1988 roku na antenie telewizyjnej w programie" Jak śmiesznie żyć, jak smutno żyć". Od tamtej pory jego muzyka jest wszędzie: w postaci sygnałów i czołówek audycji radiowych i programów telewizyjnych , w piosenkarskim repertuarze Michała Bajora, Edyty Górniak, Roberta Janowskiego, Violetty "Fiolki" Najdenowicz, Katarzyny Skrzyneckiej, Małgorzaty Walewskiej, w teatrze: m.in. do spektakli "Żółta szlafmyca", "Film", "Chopin w Nowym Jorku", "Kundel",  w reżyserii Andrzeja Strzeleckiego oraz "Chory z urojenia" i "Kram z piosenkami" w reżyserii Langa: na scenie muzycznej: musical "Cyrano" z librettem  Brylla, oratoria: "Świętokrzyska Golgota", "Tu Es Petrus", "Psałterz wrześniowy" z librettem   Zbigniewa Książka,"Santo Subito" z librettem Jacka  Cygana poswięcone  Papieżowi Janowi Pawłowi II,  " Zakochani w Krakowie" z librettem   Zbigniewa Książka. Jest też na ekranie w postaci oryginalnych ścieżek dźwiękowych oraz piosenek promujących filmy, m.in." Quo Vadis" (Dove vai), "Tryumf Pana Kleksa" (Walcz o cud)," Prymas" – trzy lata z tysiąca (Alma Mater), "Ja wam pokażę" (Niech mówią, że to nie jest miłość!), "Zemsta" (Oj kot).  Od  kiedy został tatą, z większym zapałem komponuje piosenki dla najmłodszych, a ostatnio napisał 'Bajki z zielonego lasu'. Udziela się też jako popularyzator muzyki rozrywkowej, jako szef muzycznego festiwalu im. Anny German albo opiekun konkursowej załogi Bitwy na głosy  lub juror  w programie Aplauz, aplauz.  W latach 2007-2015 kilkakrotnie występował  z ogromnym powodzeniem w nawiększych salach koncertowych w USA i Kanadzie: Roy Thomson Hall – Toronto,   Orchestra Hall, Harris Theatre, Arie Crown Theatre w Chicago, Skirball Center na  Manhattanie, L' Oratorio Saint-Joseph du Mont-Royal w Monrealu, The Chan Centre for the Performing Arts w Vancouver,  The Cathedral of St. Mary of the Assumption w San Francisco, St. Mary Cathedral w Miami,  Ritz Theatre w Elizabeth, Union Performing Arts Center w Rahway.
Piotr Rubik jest laureatem licznych nagród, m.in. Wiktora 2006 w kategorii gwiazda piosenki oraz zdobywcą laurów na Krajowym Festiwalu Polskiej Piosenki w Opolu: Superjedynki 2006 w kategorii płyta literacka i nagrody publiczności za oratorium Tu Es Petrus, Superjedynki 2007 w kategorii płyta pop oraz nagrody publiczności dla najpopularniejszego laureata Superjedynek za płytę  Psałterz wrześniowy.
W programie , z którym Piotr Rubik wraz z zespołem i solistami zawita w kwietniu 2016  w USA i Kanadzie  zaprezentowane  zostaną wybrane, znane i lubiane utwory z  ogromnego  dorobku artystycznego kompozytora. Wspaniałe teksty, piękna muzyka, perfekcyjne wykonanie  dostarczą Państwu wiele niezapomnianych  emocji.
To trzeba zobaczyć!  To trzeba usłyszeć!  To trzeba przeżyć!