Archives for February 2015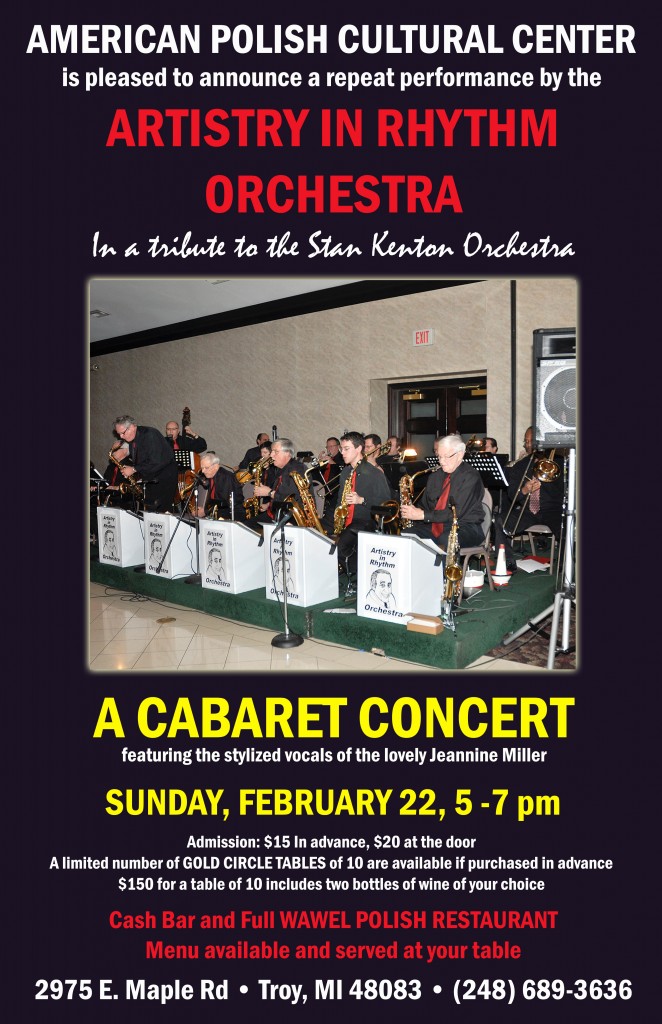 CABARET CONCERT: Sunday, February 22, 2015, 5:00 pm – 7:00 pm
7:00 pm – THE AMERICAN POLISH CULTURAL CENTER is pleased to announce a repeat performance by the ARTISTRY IN RHYTHM ORCHESTRA in a tribute to the Stan Kenton Orchestra. A CABARET CONCERT featuring the stylized vocals of the lovely Jeannine Miller. Admission: $15 In advance, $20 at the door. A limited number of GOLD CIRCLE TABLES of 10 are available if purchased in advance $150 for a table of 10 includes two bottles of wine of your choice. Cash Bar and Full WAWEL POLISH RESTAURANT Menu available and served at your table. For reservations and more information please call at 248-689-3636.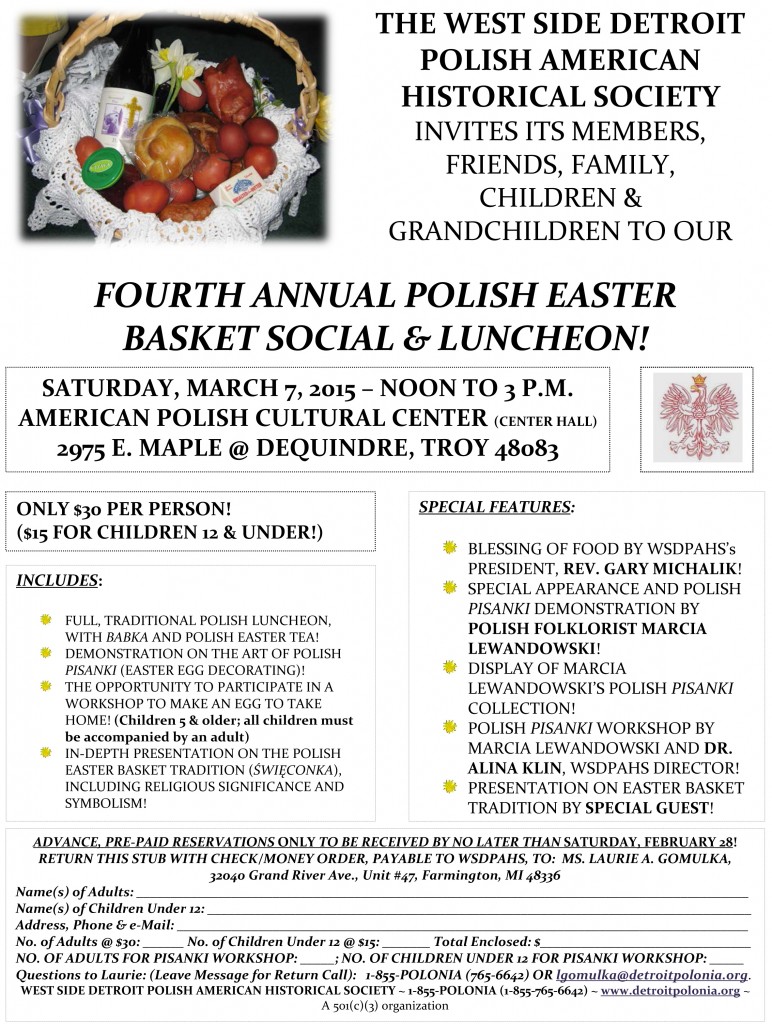 FOURTH ANNUAL POLISH EASTER BASKET SOCIAL & LUNCHEON: Saturday, March 7, 2015, 12:00 noon – 3:00 pm
POLISH AMERICAN HISTORICAL SOCIETY INVITES ITS MEMBERS, FRIENDS, FAMILY, CHILDREN & GRANDCHILDREN TO ITS FOURTH ANNUAL POLISH EASTER BASKET SOCIAL & LUNCHEON. SATURDAY, MARCH 7, 2015 – NOON TO 3 P.M. ONLY $30 PER PERSON! ($15 FOR CHILDREN 12 & UNDER) INCLUDES: Full, traditional Polish luncheon, with babka and Polish Easter tea, Demonstration on the art of Polish pisanki (Easter egg decorating, The opportunity to participate in a workshop to make an egg to take home (children 5 & older; all children must be accompanied by an adult), In-depth presentation on the Polish Easter basket tradition (Święconka), including religious significance and symbolism. SPECIAL FEATURES: BLESSING OF FOOD BY WSDPAHS's PRESIDENT, REV. GARY MICHALIK, SPECIAL APPEARANCE AND POLISH PISANKI DEMONSTRATION BY POLISH FOLKLORIST MARCIA LEWANDOWSKI, DISPLAY OF MARCIA LEWANDOWSKI'S POLISH PISANKI COLLECTION, POLISH PISANKI WORKSHOP BY MARCIA LEWANDOWSKI AND DR. ALINA KLIN, WSDPAHS DIRECTOR, PRESENTATION ON EASTER BASKET TRADITION BY SPECIAL GUEST. ADVANCE, PRE-PAID RESERVATIONS ONLY TO BE RECEIVED BY NO LATER THAN SATURDAY, FEBRUARY 28! Questions to Laurie: (Leave Message for Return Call):   1-855-POLONIA (765-6642) OR lgomulka@detroitpolonia.org.