Archives for September 2014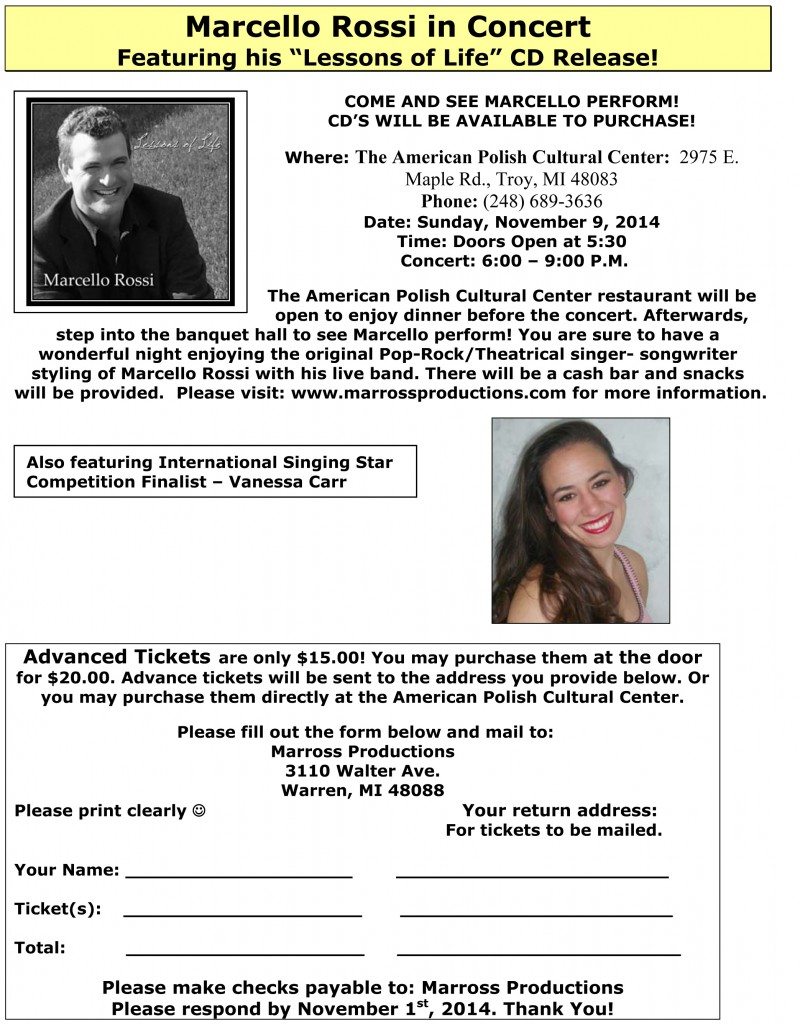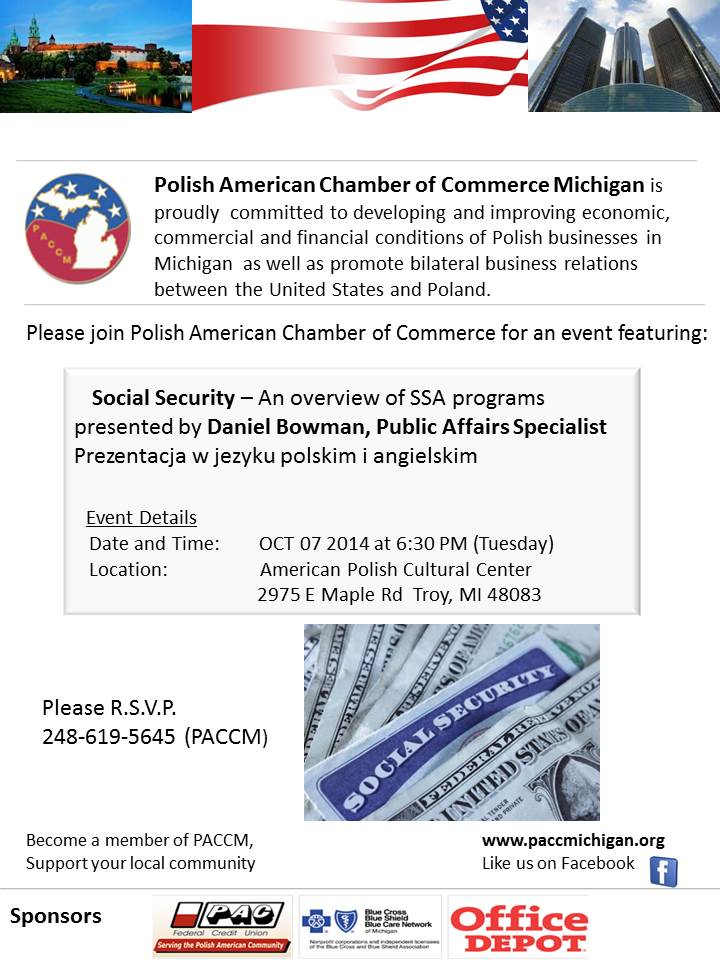 Polish American Chamber of Commerce Michigan Open House: Tuesday, October 7, 6:30 pm
Please join Polish American Chamber of Commerce for an event featuring: Social Security – An overview of SSA programs  presented by Daniel Bowman, Public Affairs Specialist. Prezentacja w jezyku polskim i angielskim. Please R.S.V.P. 248-619-5645 (PACCM).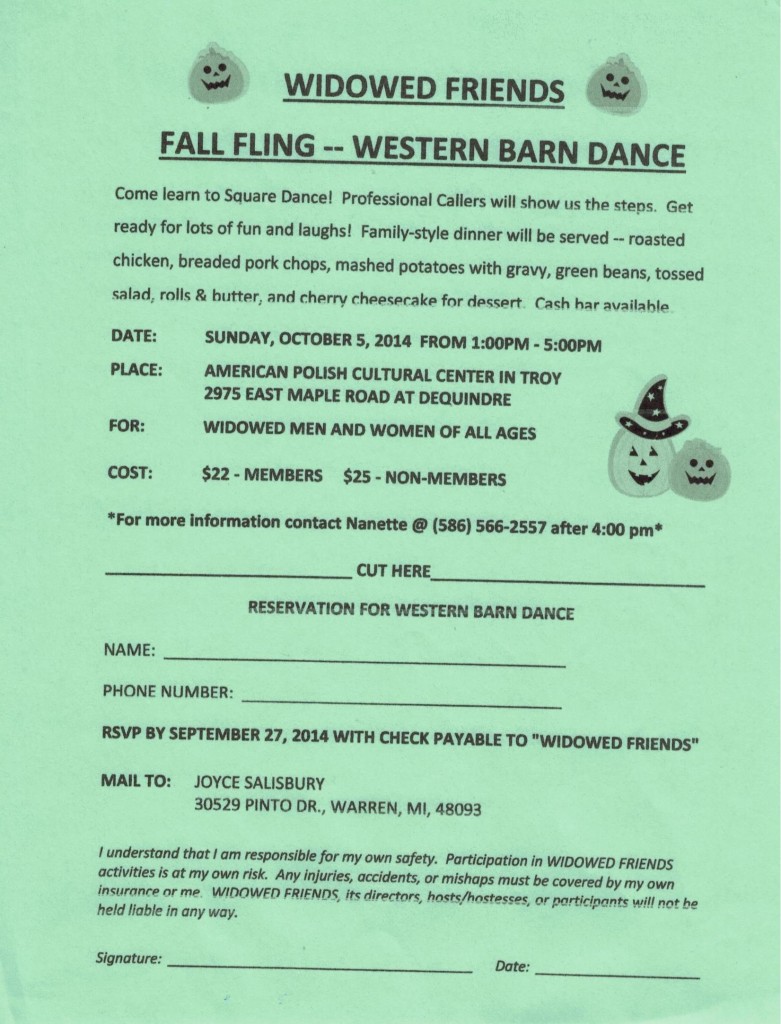 "WESTERN BARN DANCE" – WIDOWED FRIENDS FALL FLING CELEBRATION: Sunday, October 5, 2014, 1:00 pm – 5:00 pm
Come learn to Square Dance!  Get ready for lots of fun and laughs!  Family-Style Dinner will be served. Cash Bar available. Tickets: $22 per person for members, $25 for non members. Make check payable to "Widowed Friends". RSVP with check by September 27th, 2014. For more information please call Nanette 586-566-2557 after 4:00 pm. For Widowed Men and Women of All Ages!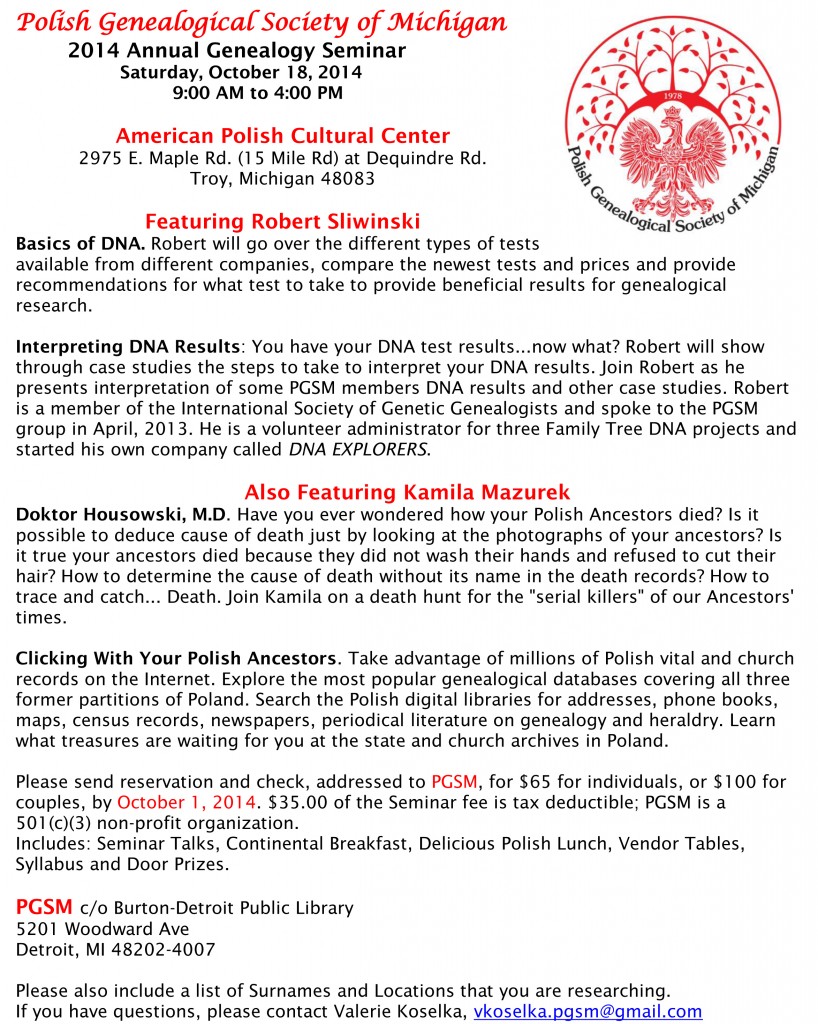 POLISH GENEALOGICAL SOCIETY OF MICHIGAN 2014 ANNUAL SEMINAR: Saturday, October 18, 9:00 am to 4:00 pm
Join Polish Genealogical Society of Michigan for its Annual Seminar Featuring Robert Sliwinski and Kamila Mazurek. Please send reservation and check, addressed to PGSM: $65 for individuals or $100 for couples, by October 1, 2014. $35.00 of the Seminar fee is tax deductible; PGSM is a 501(c)(3) non-profit organization. Includes: Seminar Talks, Continental Breakfast, Delicious Polish Lunch, Vendor Tables, Syllabus and Door Prizes. PGSM c/o Burton-Detroit Public Library, 5201 Woodward Ave, Detroit, MI 48202-4007. Please also include a list of Surnames and Locations that you are researching. If you have questions, please contact Valerie Koselka, vkoselka.pgsm@gmail.com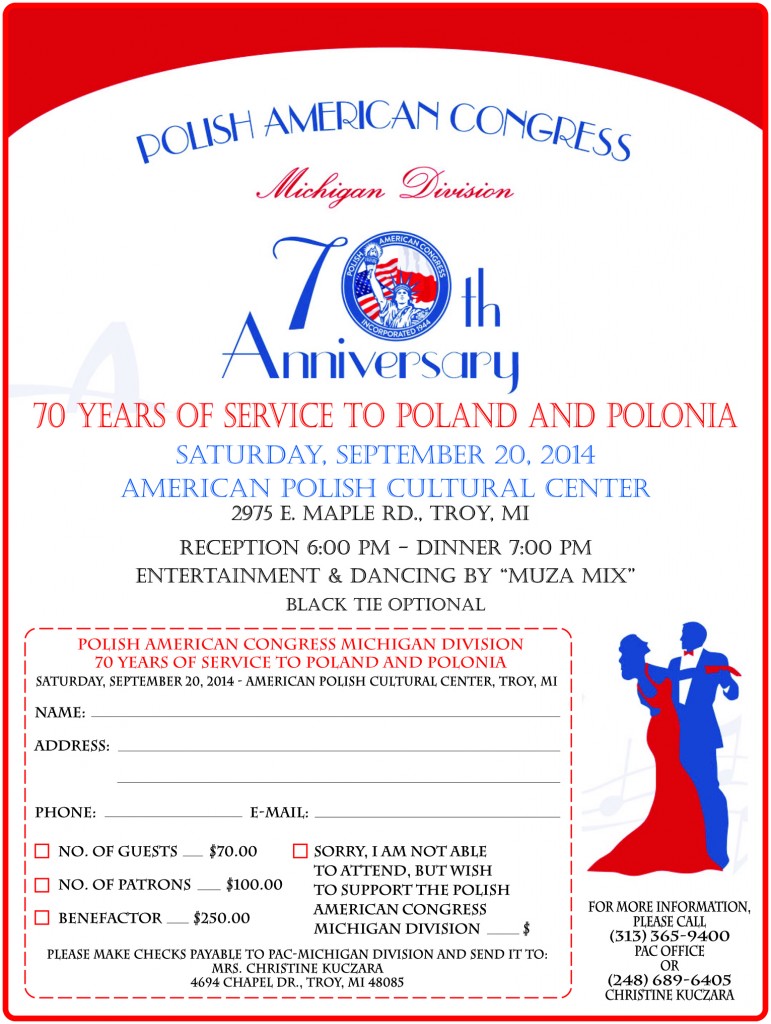 POLISH AMERICAN CONGRESS MICHIGAN DIVISION 70TH ANNIVERSARY: Saturday, September 20, 2014
The Polish American Congress Michigan Division will celebrate its 70th Anniversary with a Gala "70 Years of Service to Poland and Polonia" on Saturday, September 20, at the American Polish Cultural Center in Troy, MI (2975 E. Maple Rd.).  Reception at 6:00 pm; Dinner & Program at 7:00 pm.  Dancing to Muza Mix band.  Black tie optional.  For reservations ($70 per person), please call: 313-365-9400 or 248-689-6405.