Archives for August 2014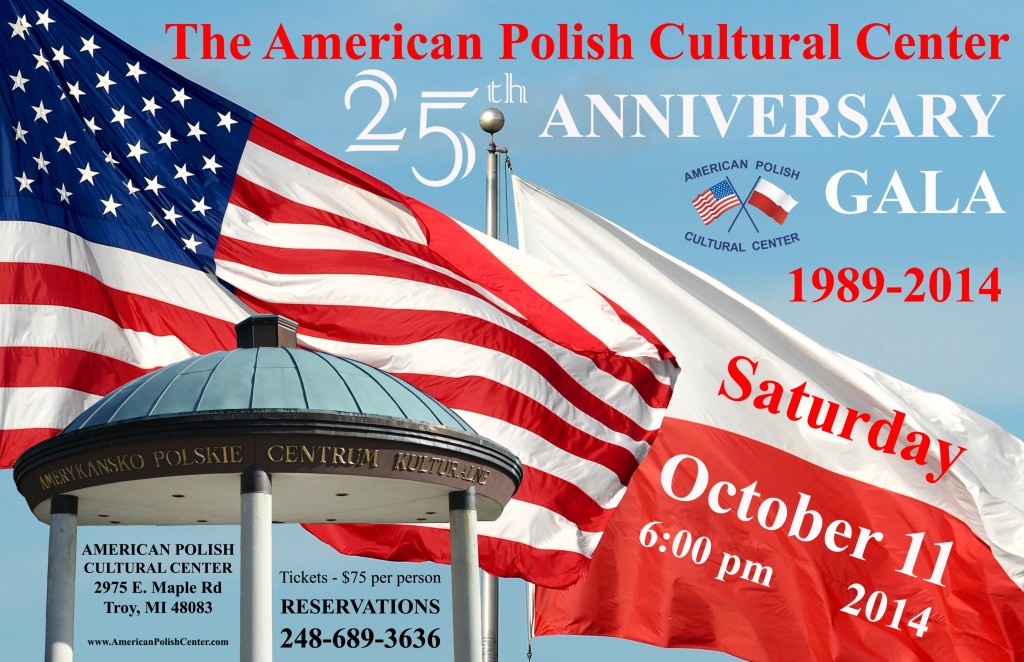 Dear Friends,
This year, the American Polish Cultural Center is 25 years young!
The Center is home to a number of Polish-American organizations and clubs, the American Polish Cultural Society, the National Polish-American Sports Hall of Fame and the Wawel Restaurant.
Nearly one million visitors have come to the Center during just the past decade for cultural events, banquets, and parties or to see friends.
We're honoring our first quarter century with a Silver Anniversary Gala the evening of October 11, 2014 featuring cocktails, dinner and dancing. Each guest and advertiser will receive a special commemorative Gala Program book which will include noteworthy information about the Center and the Gala.
We would appreciate including your advertisement or congratulatory message in the Program book. It is a wonderful opportunity for you, your company or your organization to demonstrate support for the Center and our dynamic local Polish-American Community.
Please consider placing an ad or a congratulatory message in the Program book. Specifics about ad sizes, color options, rates and other information are listed in the enclosed Advertising Contract. The deadline for submitting a signed Advertising Contract and graphics is September 20, 2014. Net proceeds from the Program and Gala will support the efforts of the American Polish Cultural Society, our sister organization, in promoting Polish and Polish-American Culture.
APCC Advertising Contract      APCC Advertisement Letter
We look forward to hearing from you.
Yours very truly,
Richard Konrad, President                                   Dale Buras
American Polish Cultural Center                        Silver Anniversary Gala Committee