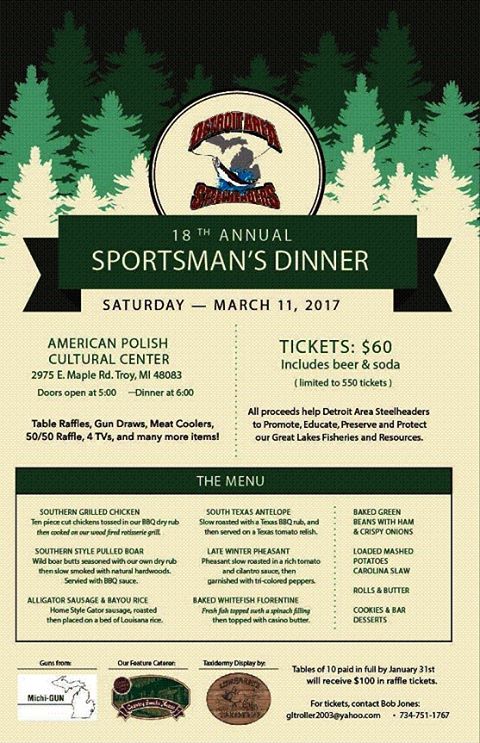 18th Annual Sportsman's Wild Game Dinner : Saturday, March  11, 2017
The dinner is being held on Saturday, March 11, 2017 in the Main Banquet Room at the American Polish Cultural Center at the Northwest corner of 15 Mile Rd. & Dequindre in Troy, MI. Doors will open at 5:00 PM and you can deposit your dinner ticket stub in the Door Prize Drawing bucket as quite a few winners will be drawn just prior to and during dinner. Country Smokehouse will again be catering the event and dinner will be served at 6:00 PM. This year, the Wild Game Main Entrees will be Southern Style Pulled Boar, Alligator Sausage and Bayou Rice, South Texas Antelope, Late Winter Pheasant and baked White Fish Florentine plus there will be a Domestic Main Entrée – Southern Grilled Chicken. There will also be Hot Sides, Carolina Slaw, Rolls and Butter, Cookies and bar Desserts. In addition to dinner, unlimited pitchers of beer and soft drinks are included. There will also be a Cash Bar available.
There will be $1 & $5 Table Raffles, Gun Draws, Premium Meat Draws, 50/50 raffles, Yeti Cooler Drawings and many more items. Guns are provided by Michi-Gun. The Taxidermy Display is courtesy of Lombardo's Taxidermy.
Tickets are $60 per person. This is the club's only fundraiser and all proceeds go to help the DAS Promote, Educate, Preserve and Protect our Great Lakes Fisheries and Resources.
NOTICE: Ticket sales have been very strong and there are only a small number left. For ticket availability, you will have to contact WGD Ticket Chairman Bob at (734) 751-1767.