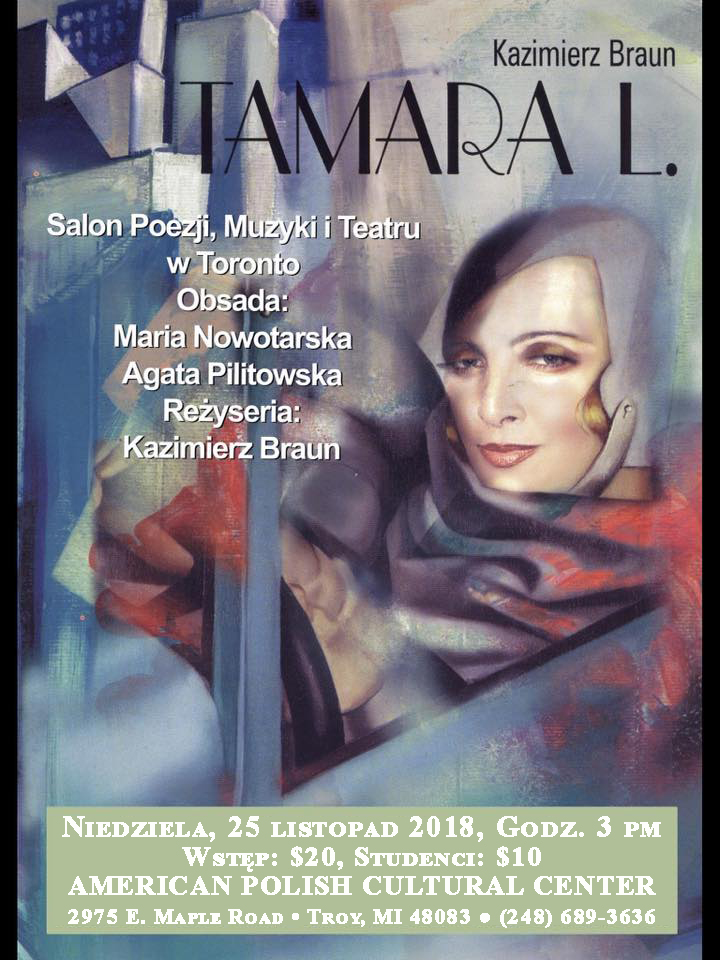 "TAMARA L." PLAY: Sunday, November 25, 2018, 3:00 pm
American Polish Cultural Society invites you November 25, 2018 to a play by Kazimierz Braun "Tamara L." performed by the great artists of Polish-Canadian Society of Poetry, Music and Theatre in Toronto. (performance in Polish language).
American Polish Cultural Society zaprasza na sztukę Kazimierza Brauna "Tamara L." w wykonaniu znakomitych aktorek Salonu Poezji, Muzyki i Teatru z Toronto. Spektakl przybliża losy znakomitej i sławnej w świecie malarki okresu art deco Tamary Lempickiej (1898-1980), urodzonej w Warszawie, która w wieku 20 lat osiadła w Paryżu, wyemigrowała w 1939 roku do USA, a w 1974 do Meksyku, gdzie zmarła. Kazimierz Braun: "Tamara L." nie jest sztuką biograficzną o Tamarze Lempickiej choć czerpie z jej życia i twórczości oraz wykorzystuje jej malarstwo. Wielka malarka stojąc u szczytu sławy i powodzenia, będąc portrecistką arystokratów i milionerów, prowadząc życie bujne i ekscentryczne – postanawia pewnego dnia wstąpić do klasztoru…".